Powered by Bravenet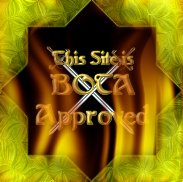 Deridru's Tribute
Aug. 30, 1999
Written by: Deridru

As I don't know Morgan personally I felt I needed to
write this. Athena as come into my life as well as
PhenomForests life. We have truly been blessed to
have met Athena.

It was in March of 2000 when Athena came up for her
seeker ritual. It was then I felt Morgan around
the circle. I felt happiness from her and such
joy. She stood by Athena and I could feel such
love and admiration and I could faintly hear her
voice say, "She has done well."

I was in tears for the joy I felt was so
overwhelming. Morgan was and is special.
Morgan was like a proud mother over her
child that day and rightfully so.

What joy we all felt with her presence at
the circle. Morgan stayed for a while after
that. Her presence in the house could be felt
for days. This is how I remember Morgan.